VIDEO LENS FOR FT-FAT60 CAMERA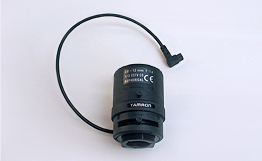 We offer varifocal lenses which give maximum flexibility when positioning your video camera on the track. Focal length adjustments can be made with the turn of a dial.
Our Samsung Video Camera comes with a Tamron 2.8 – 12mm varifocal lens that allows the camera to be positioned as close as 5 feet and as far as 35 feet from the track. If you need to mount your camera further from the track, you'll want our Tamron 5 – 50mm varifocal lens.
Tamron 2.8 – 12mm varifocal lens……..$65.00
Tamron 5.0 – 55mm varifocal lens……..$95.00
Technical Specifications
Imager Size: 1/3″
Focal Length: 2.8 – 12mm
Maximum Aperture: F/1.4
Minimum Aperture: F/360
Zoom Ratio: 4.28X
Overall Length: 53mm
Focus Range: MOD 0.3m – infinity
Mount: CS
Iris Type: DC Auto Iris