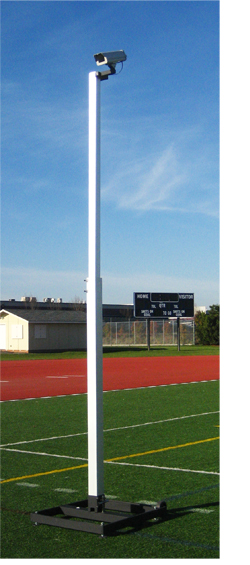 The FlashTiming Camera Stand positions the camera up to 13 feet above the ground to provide a clear view of all the racing lanes. The rugged rubber wheels make it easy to move, mount the camera and store the stand. Our light-weight aluminum telescoping pole allows you to position the camera 8 to 13 feet from the base. The adjustable feet and built-in levels ensure a true vertical stand in the plane of the finish line.
The stand comes with a camera clamp for mounting any camera cover and is its own versatile tool. This tool, with 2 socket heads, is all you need to set up your camera stand and secure the camera pole and camera clamp in place.
Features
Solid steel base weighs 135lbs and will stand up in heavy winds.
Adjustable feet and built-in level make it easy to correct for sloping ground.
Rugged wheels ensure easy moving.
Additional camera mounts are available to add backup
timing camera.
Optional bar bell weight adapters add extra ballast in extra
windy conditions.
Price………….$1495.00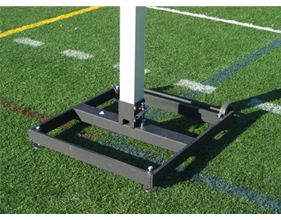 One person can easily move and setup the camera.