MEET MANAGER for Track & Field (TFMM) is the most widely used meet management software in the world. MEET MANAGER is used for many high school and college dual, invitational and championship meets.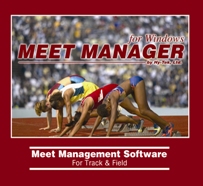 FlashTiming can help you with all your Hy-Tek options in addition to those listed below.
The MEET MANAGER Bronze Package runs and scores the meet, and you can add options to customize MEET MANAGER depending on the kind of meet you plan to run. FlashTiming recommends the following minimum options for track and cross country meets.
---
MEET MANAGEMENT OPTIONS FOR TRACK
Meet Manager Bronze: Register your athletes, set up your events, run and score your meet and generate reports. Customize each event with up to 4 rounds of seeding. Creates Heat & Flight sheets, Field Event Score sheets, Meet Program.
$275.00
Photo Finish Interface: Exchanges start lists and results with FlashTiming, enabling the meet manager operator to freely enter results for field events, to seed later events, to print reports, or to do any other administrative task associated with running the meet. Because start lists and results are transmitted electronically, there is no keying in times and thus no mistakes!
$295.00
MEET MANAGEMENT OPTIONS FOR CROSS COUNTRY
Meet Manager Silver: Includes everything in the Bronze Package plus a complete Cross Country team scoring capability with dynamic team scoring and adding penalty points.
$395.00
Silver Upgrade: Upgrade your bronze package to include the Cross Country option.
$120.00
Button Finish Interface: No need to enter results! This interface connects your MEET MANAGER computer directly to your Ultrak L10 stopwatch and downloads the times. It also give you the capability to print bar codes and to scan the bar codes with the FlashTiming USB bar code reader.
$99.00